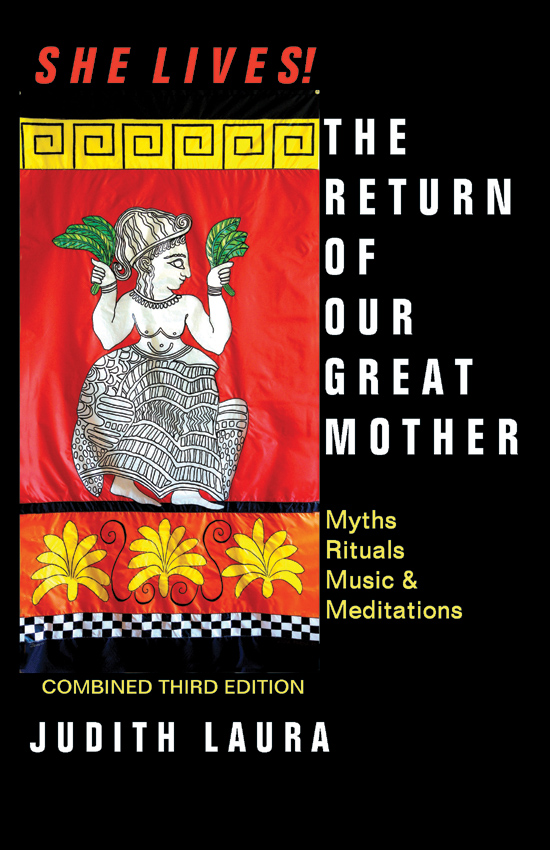 She Lives!
The Return of Our Great Mother
Myths, Rituals, Music & Meditations
ISBN 9780982819722 / Open Sea Press / $12.95 list price / Distributed by Ingram
As of Jan. 19, 2011, the paper used in this book printed in the US is Sustainable Forestry Initiative Certified (SFC®), The paper used in this book printed in the UK is Forest Stewardship Council (FSC®) Mixed Credit FSC C084699.

Cover art "Demeter Goddess Icon Banner" copyright © 2007 by Lydia Ruyle. Used with permission.
"For just as they have made the male god to rule
over Our Great Mother,
so they have justified their rule over you.
Know from this that personification is political.
And thus the yoke of your oppression is their denial
of She who is the source of all life. . . .
I will be with you and all who return to me,
for as you liberate me,
so shall you be set free
and the balance of the universe be restored."

~from "The Meeting" in She Lives! The Return of Our Great Mother.
Copyright 1989, 1999, 2010 by Judith Laura
This book combines the material from the first edition published by The Crossing Press in 1989, including musical notation we were not able to include in the second (10th Anniversary 1999 edition), plus all the new material added to the the 10th Anniversary Edition, plus a few new or changed items specific to this third edition.

She Lives! The Return of Our Great Mother explores the return of the divine personified as female through myth-like stories, rituals for both personal and seasonal celebrations with songs and dances, and a variety of meditations. Now in its third edition, this book continues to be treasured for its innovative multi-traditional perspective and the beauty of its language.
This Combined Third Edition has all material from the first edition, including 30 songs with notated music for 26 of them. (The four songs for which notation is not included in this edition have well-known melodies. The 1999 second edition had notation for only 11 of the songs.) This new edition also includes material added in the second (10th Anniversary) edition, such as guided meditations for each of the seasonal celebrations and an entirely new section,
"Reflections on Seasonal Celebrations," with background information on holidays of a number of different traditions.
There are also some changes and additions found only in this edition, such as an alternative "Hail Mary" in one of the "Modern Myths," and other material modified or added to keep pace with the evolution of Goddess thought.
Judith Laura's approach in She Lives! remains unusual among Goddess spirituality books. Its material doesn't fit neatly into any one category, such as Pagan. Rather, especially in its myth-like stories, it describes how female divinity might return to people on diverse paths, and addresses a variety of issues in a number of different religions and in secular settings. Its seasonal rituals contain aspects of Pagan, Jewish, Christian and other traditions. One of the earliest writers to see the connection between what is commonly called belly dance and Goddess heritage, Laura includes this and other folk dance forms in her rituals and meditations.
Her personal rituals for women and for men focus on sex-related life milestones.
Her seasonal rituals are community-oriented, including both adults and children.
(scroll down for video preview)
Guided meditations from this book, read by Judith Laura, now available in audiobook, Goddess Guided Meditations.
From Reviewers of All Three Editions

"This beautifully written book contains a variety of treasures, from Laura's myth retellings both ancient and modern, to ritual ideas from many spiritual disciplines, to sacred music and chants for the circle. . . .
From beginning to end, She Lives! provides invaluable information and practical ritual resources
designed to help the reader."
~Leni Austine, SageWoman"I was most pleased to see this expanded edition of one of my favorite Goddess devotionals. . . .This is a book that I can highly recommend to anyone coming from more traditional religious backgrounds. . . .
Laura's emphasis is on cultural and religious diversity, and her aim is to appeal to a wide spectrum of people on all religious paths. . . .Songs, chants and meditations round out this
wonderful book that should be on every Goddess-loving person's bookshelf."
~Marisa Young, The Beltane Papers "She Lives! is a terrific book."~Barbara Ardinger, author of Practicing the Presence of the Goddess "Judith's myths are gentle, but powerful. They make you smile.
They give you goose bumps."
~The Women's Spirituality Book Review
Contents
(for more excerpts see video at bottom of page)
Introduction to the Combined Third Edition (read excerpt on this site)
Ancient Myths
The Beginning
The City
Modern Myths
The Dove and the Bear
The Meeting (read reprint on Goddess Pages)
Welcoming the Sabbath
The Convent
Alana Buluku and the Reverend Jones
The Delegation
Lillian's Husband
She Who Heals
Personal Rituals
Women's Celebrations
Men's Celebrations
Seasonal Rituals With Songs and Dances
Autumn Equinox (read guided meditation from this ritual on Matrifocus)
Winter Solstice
Spring Equinox
Summer Solstice
Reflections on Seasonal Rituals
Autumn: A Time to Harvest (read excerpt on this site)
Winter: Challenge and Gift
Spring: Sensing the Season's Turning
Summer: A Time of Abundance
Meditations
The Castle
Morning Healing Meditation
Self-Blessing Belly Dance
Earth Invocation
Upon Seeing the Full Moon
Darkness and Light
Charge of Love
Her Words
Miracle of the Egg
Benediction
Song Index
The Combined Third Edition of
She Lives! The Return of Our Great Mother
is available in the US, Canada, UK, EU, & elsewhere.
Here are links to some Internet booksellers carrying the new edition: bn.com, amazon.com, Powell's, Better Word Books, Book Depository,,amazon.ca, booksunlimited.ie (Ireland) amazon.com.co.uk, eruditor.com (UK), Pickabook (UK), Tesco (UK), amazon.fr (France), buch.ch (Switzerland), libreriauniversitaria.it (Italy), webster.it (Italy), buch.de (Germany), amazon.de (Germany), saxo.com (Denmark), bokus.com (Sweden), capris.no (Norway), booky.fi (Finland), scribblygumbooks.com.au (Australia), Holistic Page (Australia) Booktopia (Australia), whitecoulls.co.nz (New Zealand), Infibeam (India), Kalahari.net (South Africa), amazon.co.jp (Japan)
Because there are multiple editions of this book, when searching for this edition on bookseller sites, we recommend searching by ISBN: 9780982819722

She Lives! is also available through brick-and mortar stores; if you don't see it on the shelf, tell them the ISBN (above) and ask them to order it through Ingram.

Judith Laura donates at least a third of her royalties from all her books to charities benefiting women. (Because authors don't get royalties from used or out-of-print book sales, this cannot include the sale of such books.)

In recognition that not everyone can afford to buy books, and in gratitude for the great service libraries provide, we share a partial list of public and university libraries whose holdings include various editions of this book:

College, Institute, Seminary & University Libraries
Aletta Institute for Women's History (Netherlands)
Auburn University
College of St. Mary (Omaha)
Colorado College
Florida Institute of Technology
Florida Center for Theological Studies
General Theological Seminary (NYC)
Harvard Divinity School
Harvard University Schlesinger Library
Indiana University
John Kinder Theological Library (New Zealand)
Kansas State University
Lewis University
Louisiana State University
Loyola University of Chicago
Michigan State University
Manhattan College (Bronx)
Princeton University
Michigan State
North Park University (Chicago)
Ohio University*
Olivet College (Michigan)
Rutgers University
Radcliffe
San Jose State
Southern Methodist University
SUNY at Stony Brook
Syracuse University
University of Alberta
University of Colorado at Boulder
University of Georgia
University of Illinois
University of New Orleans
University of the South
University of Toronto
University of Virginia
University of Washington
University of Western Ontario
West Virginia University
Yale University

Public Libraries
Allen County, Ind.
Anchorage
Boston
Kansas City, Kansas
Lexington, Ky.
Middletown Twp., NJ
Milwaukee
New York City
North Bay Cooperative, Calif.
Oceanside , Calif.
Solano County, Conn.
San Antonio
Santa Clara, Calif.
St. Johns County, Fla.
Suffolk Coop, N.Y.
Parmly-Billings, Mont.
Washington County, Ore.
Washoe County, Nev.

Source: wildcat.org

* With the exception of Ohio University, the author's alma mater, no books were donated to these libraries by the author or publisher

Books that cite She Lives! include:
▪ Gilgamesh Among Us by Theodore Ziolkowski (Cornell University Press 2011), in discussion of works of interest in Goddess theology
▪ Devi: Goddesses of India, ed. by John Stratton Hawley and Donna M. Wulff (University of California Press 1996) in essay "The Western Kali" by Rachel Fell McDermott
▪ Living in the Lap of the Goddess by Cynthia Eller (Beacon 1993) in Notes for chapter 7,"Not Just God in a Skirt"
▪Annual Review of Women in World Religions, Vol. 5 (SUNY Press 1999), essay "Immanence and Transcendence in Women's Thea/olgies" by Cynthia Eller, quotes 1989 version of "Her Words" from Meditations section of "She Lives!"
▪ The Kenyon Review, vol. 21, No. 1, Winter 1999, essay "The Mother of All Cultures" by Alison Booth, includes discussion of one of stories from She Lives!