Goddess Spirituality for the 21st Century
From Kabbalah to Quantum Physics
Second Enlarged Edition
by Judith Laura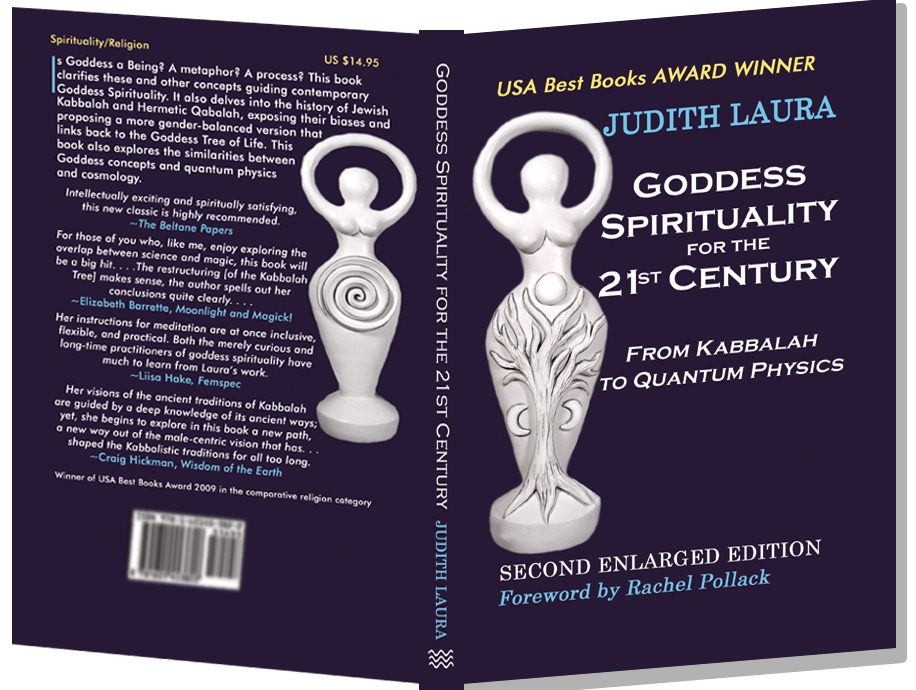 WINNER
"Religion: Comparative " Category
USA Best Books Awards 2009


Book features:
● Basic Goddess Concepts
● In-depth analysis of both Jewish Kabbalah and Hermetic Qabalah plus Goddess re-visioning
● Goddess and Science
● Rituals and Guided Meditations

This is the second printing of the Second Enlarged Edition and, along with some minor editorial changes from the first printing, it has the complete text of the original 1997 edition PLUS:

● Foreword by Rachel Pollack
● Preface to Second Enlarged Edition
● New graphic of re-visioned Kabbalah Tree showing emergence of remarkable sefirot pattern
● Music notation for songs in rituals
● Tree of Life Tarot Spreads with card position meanings based on re-visioned Tree
● Study Guide for all chapters in this edition (Please scroll down for info on additional ebook guide for just Kabbalah chapters)
● Index

Excerpt from Rachel Pollack's FOREWORD
[[Deleted material is indicated by ellipses (dots). ​ The length of the actual Foreword is at least 3 times the length of this excerpt]

This remarkable book manages to say more than many works on these subjects four or five times its size. What's more, what it says is not just clear and lucid, and stocked with information, it also is valuable for women and men living their lives today. . . .

Through the principle of the spiritual is political we can come to understand the way an all-male concept of God has distorted our society and our own lives. The modern Goddess religion, based on archaeological discoveries, mythological clues, and contemporary inventions, has helped many of us overcome those distortions.

. . . .Because Qabalah includes Goddess imagery, and Kabbalah seems to address the idea of re-uniting male and female, they have both attracted many people who seek a traditional base for Goddess work. And yet, as Judith Laura demonstrates so precisely and eloquently, the Kabbalist traditions are not somehow magically free of patriarchal bias. They are not an absolute truth outside of culture. On the contrary, they, like all other religious traditions, are the work of humans—humans at a very intense state of consciousness, but still humans formed, at least in part, by their culture and its assumptions. . . .

Esoteric beliefs usually include an assumption of privilege. They claim to come directly from divine sources, and usually ancient origins. . . .They also claim to speak of truths very difficult to grasp. All this results in texts that are mysterious and hard to comprehend, along with a readership that accepts their divine authority without question. Laura has read vast amounts of material, and then has outlined the ideas and information in clear and concise language. The wealth of information alone would make this book of great value. But she goes further, for she shows us that these ideas did not emerge from instant revelations but grew over time, and in historical settings.

And then she goes further still, for she suggests ways we can rework, perhaps even restore, a genuine balance of male and female. . . .And then, so we can make use of this river of clear information, she gives us meditations and exercises to make these symbols our own. . . .she then goes on to apply those same remarkable abilities to a field at least as dense and difficult as Kabbalah—quantum physics. . . . As with Kabbalah, Laura manages to absorb vast amounts of information…and then give it out in precise details and large ideas. . . .
Goddess Spirituality for the 21st Century is a rare book, a kind of sacred quest of ideas. We can all give thanks that Judith Laura has undertaken it, and fulfilled it with such dedication.

Rachel Pollack is author of The Kabbalah Tree, The Body of the Goddess, and many other books on metaphysical subjects, including Tarot.

Comments from Reviewers and Readers

"Intellectually exciting and spiritually satisfying, this new classic is highly recommended."
—The Beltane Papers

"For those of you who, like me, enjoy exploring the overlap between science and magic, this book will be a big hit. . . . The restructuring makes sense--the author spells out her conclusions quite clearly--and this brings Kabbalah within reach of women who would otherwise ignore it. The adjustment may also appeal to men who prefer a good gender balance in their magical workings."
~ Elizabeth Barrette, Moonlight and Magick!

"Well-written, brimming with great information, and peppered with meaningful rituals. Get it now!" ~James Wells, Tarot consultant/ healer/ workshop facilitator, Toronto

"With Goddess Spirituality for the 21st Century, Judith Laura has provided an illuminating, inviting introduction and straightforward, user-friendly manual for the study of goddess spirituality and Kabbalic traditions. While her interpretations of scripture and Kabbalah will doubtless lead to disagreements with members of various schools of thought, many will find great intellectual intrigue and spiritual comfort in the sources of Goddess presence in the story of creation which Judith Laura has exposed. Her instructions for meditation and chant are at once inclusive, flexible and practical. Both the merely curious and long-time practitioners of goddess spirituality have much to learn from Laura's work." ~Liisa Hake, FEMSPEC

"Judith Laura guides the gentle reader through a personal voyage of meditation and reawakening. Her vision of the ancient traditions of Kabbalah are guided by a deep knowledge of its ancient ways; yet, she begins to explore in this book a new path, a new way out of the male-centric vision that has guided and shaped the Kabbalistic traditions for all too long. . . There is more in this book to contemplate: a history of Kabbalah from ancient to modern adaptations within the modern occult group known as the Golden Dawn; as well as her own unique re-visioning of this tradition. . . .Plus a look at the history of modern Quantum Physics as well. . . . Her vision is guided. . . by an egalitarian view of both life and the mysteries of existence." ~Craig Hickman, Wisdom of the Earth

"Exactly what it says! Points the way to a new millennium of Goddess worship." ~Marisa Young, Amazon.com Listmania! Pagan/Goddess/Feminist Classics

"...I bought this book assuming that I wouldn't like it, yet I was drawn to her premise and wanted to give the book a chance. I'm very glad that I did. Her treatment of Kabbalah very obviously stems from a study in Traditional Kabbalah, which for me indicates scholarship, dedication, and true desire to help seekers understand the subject matter. It would have been easy for Ms. Laura to use entirely hermetic sources and views in her treatment of Kabbalah, but instead she teaches from the source, from the heart of Kabbalism, and for that alone, I applaud her... Had I read [this book] several years ago, it very well may have changed my world. As it is, it is a sound, well researched, opinionated and interesting look at Kabbalah through the lenses of feminist spirituality. Job well done." ~Amber Simmons, Amazon.com

...a wonderful book that clarifies a once complex subject. As a lover and student of Kabbalah myself, I found this book so enlightening and encouragingly expressed, I wouldn't hesitate to recommend it to any layperson interested in the feminine face of God as expressed in Kabbalah." ~Dryw, The Sacred Green "I am teaching Kabbalah and have found this to be one of the more interesting and challenging, thought provoking books.... I really like the way you bring science into the spiritual/magical picture. I also appreciate the very scholarly way that you approach the idea of gender on the tree, and question it while at the same time offering several views. . . I really enjoyed the book immensely." ~Jewel St. Michel, Kabbalah teacher, San Francisco

Contents of Second Edition
Foreword by Rachel Pollack new
Preface to Second Enlarged Edition new

Introduction
Chapter 1. Concepts of Contemporary Goddess Spirituality
Chapter 2. Kabbalah: In Its Beginnings
Chapter 3. From Spain to Safed
Chapter 4. Qabalah
Chapter 5. Re-Visioning The Tree
Chapter 6. Taking the Quantum Leap
Appendix 1. Music Notation new
Appendix 2. Tree of Life Tarot Spreads new
Appendix 3. Study and Discussion Guide new
Notes
Index new

Meditations and Rituals Transitions from Transcendent to Immanent Divinity New Moon: A Meditation on Darkness and Light New Moon Ritual Ritual Purification of the Tree Sefirot Meditations Permutation of Holy Names Full Moon Ritual Waning Crescent Moon Ritual More Content Details

Study Aids

In addition to the Study Guide to all chapters included in the Second Enlarged Edition of this book, a longer study guide in a separate ebook, Exploring Re-Visioned Kabbalah: A Study Guide...focusing in-depth on just the four Kabbalah/Qabalah chapters, is now available as a Kindle E-Book, a NOOKbook, at Diesel eBook Store, Sony Ebook Store, and at Smashwords in multiple formats, and at other ebook vendors. In the U.S. usual price is $2.99 (similar prices outside U.S.).

Among the books citing Goddess Spirituality for the 21st Century are:

Gilgamesh Among Us by Theodore Ziolkowski (Cornell University Press 2011), in discussion of works of interest in Goddess theology

The Woman Magician by Brandy Williams (Llewellyn 2011), includes summary of Laura's revisioning of Kabbalah Tree

The Kabbalah Tree by Rachel Pollack (Llewellyn 2004), multiple citations