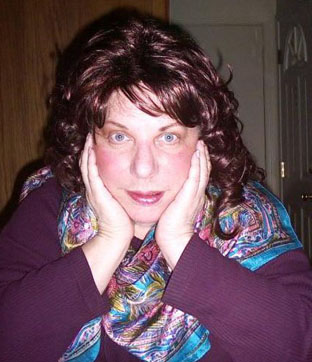 About Judith Laura
Judith Laura is author of the novels, Beyond All Desiring, recipient of multiple awards, and Three Part Invention; and the books, Goddess Matters, winner of finalist awards in two categories in the International Book Awards 2012, Goddess Spirituality for the 21st Century, winner of the USA Best Books Awards in the comparative religion category (2009), and She Lives! The Return of Our Great Mother, now in its Third Combined Edition. She has gathered meditations from her first two Goddess books into an audiobook, Goddess Guided Meditations , which she narrates. Her poems have appeared in many print and online journals including: Metropolitan, Pudding Magazine, Poetica, OALM, Broomstick, Facets Magazine, The Pedestal Magazine, The Mid-America Poetry Review, Moondance, Soul Fountain, Poemeleon , Poet's Corner - Fieralingue, and the anthologies Prayers to Protest (Pudding House 1998), A Pagan's Muse (Kensington/Citadel 2003), and Not What I Expected (Paycock 2007).

This site has examples of her previously published books in print and links to her poems published elsewhere online. Among the publications in which her short fiction has appeared are: Poetica, So Dark So Deep, Gemini Books' Jetstream line, HLFQ, and the anthology Hot & Bothered 3 (Arsenal Pulp Press 2001). Her related memberships have included The Writer's Center (DC-area), and the Academy of American Poets. She is listed in the directory of Poets & Writers . Her first rituals were published in the journal WomanSpirit in 1978. Other of her rituals and articles, have appeared in The Beltane Papers, Matrifocus, SageWoman, Voices of Women, and the anthology SageWoman Cauldron (1993). She had a regular column in The Beltane Papers from 2002 until it stopped publishing as a magazine in 2007. She is a contributor to the "Dancing the Goddess Home" Ritual of the Goddess 2000 Project, A Winter Solstice Singing Ritual (Emerald Earth 2002), and the anthology Talking to Goddess (Lilith Institute 2009).

A more extensive list of material from her Goddess books pre or re-printed can be found elsewhere. She is Jewish by birth and Unitarian Universalist and Goddessian by choice. She feels her strongest Goddess heritage is that of the Ancient Near East including Asherah, Hokmah/Sophia/Wisdom, and Isis. Ordained by the Universal Life Church, she dedicates her ordained activities to Goddess spirituality. She is a member of the the Association for the Study of Women and Mythology, the Fellowship of Isis, and founder of the Asherah Yahoogroup.

Tarot is part of her spiritual life. She is a reader, teacher, and served on the advisory committee to the American Board for Tarot Certification. She is a member of the Daughters of Divination, headquartered in San Francisco. Her graphics (including a color-keyed graphic for the Kabbalah re-envisioning in Goddess Spirituality for the 21st Century) and art, including depictions of Asherah, Mary Magdalene, and a three prints inspired by the Nag Hammadi text, "The Thunder, Perfect Mind," are now available at cafepress.com/judith_laura. She was born Judith Laura Levine near Prospect Park, Brooklyn, NY, in 1941, the first of three children, all daughters. Her parents, Ida and Al Levine, were musicians; her father was also an artist. Her grandparents, Bessie and Benjamin Erdberg of Manhattan, and Jennie and Jacob Levine of the Bronx, all immigrated to the United States in the early 1900s from Byalistok and nearby locations in "the Pale" of Poland (sometimes Russia).

When Judith was 2, she and her parents moved to Ewing, NJ, a suburb of Trenton. Judith attended Parkway Elementary School and Ewing High School, where she was editor of the student newspaper. When she was 15, she attended her first international folk dance behind the Princeton University graduate school dorm. Folk dancing became a life-long passion and later she was active for many years in metro Washington DC folk dance circles. She received a BS in Journalism from Ohio University in Athens, where her feature articles for the university student newspaper, The Post, won national and state awards. She also became well known on campus for her theater reviews. She became the first feature editor of The Post and later, copy editor. In 1962, she tried for editor-in-chief but was turned down because another female student had held that position the previous year (the first woman editor!), and also because Judith's politics were considered too radical (she wrote articles against US segregation and South African apartheid for a campus civil rights group's publication). Upon learning that Judith had been denied the Post editorship, the college yearbook, the Athena, grabbed her for its copy editor slot. Drinking copious amount of lemonade, Judith wrote the unconventional copy for OU's 1963 Athena, whose horizontal format broke with vertical tradition. This provided better layout possibilities for an artistic photo-essay, which Judith's prose-poetry accompanied.

In retrospect, the yearbook's unconventional approach can be seen as a foreshadow of student rebellion in the later '60s and '70s. After graduation, Judith worked for about a year on the Trenton Times, one of two "first women" hired to work on the news desk of the afternoon daily, where she wrote mostly feature articles and theater and music reviews. In 1964, she joined friends in Denver where, armed with a enthusiastic letter of recommendation from the Trenton editor to his buddy the editor of the Rocky Mountain News, Judith tried to get a job on that paper. She was turned away by the editor's assistant, who told her the paper wasn't considering female applicants for reporter positions. Too discouraged to approach other daily papers, Judith got a job as a department store advertising copywriter and hung out with local literati. After a few months, Judith left Denver for New York City where she obtained uninteresting and low-paying editorial work after being refused more interesting and lucrative jobs which, as in Denver, required a certain anatomical appendage she lacked and considered a liability certain exquisite labyrinthine anatomy she possessed. In 1965, Judith married Ronald J. Willis, whom she had met in 1963 at a folk dance in Miss Fine's gym in Princeton.

Shortly after the first great NYC blackout, they fled the city during garbage and subway strikes and drove to Washington, DC. They settled in Arlington, Virginia, where Ron Willis founded the International Fortean Organization (INFO) and Judith became one of the first employees of Public Health Service's National Clearinghouse for Smoking and Health. During the Vietnam era, Judith participated in the alternative media, writing articles for the Washington Free Press, and later becoming book reviewer, book editor, and then editor of Woodwind, an arts paper. During this time she gave birth to a daughter and taught herself astrology and tarot. Ron Willis died of cancer in 1975. While her husband was ill, Judith began working in the Fairfax Hospital Association's Office of Public Affairs as editor of the employee newspaper. (FHA is now Inova Fairfax.) She served as assistant director of public affairs until 1979, when she joined the Office of Public Affairs at the US Food and Drug Administration. She held various posts at FDA including editor of the Drug Bulletin (for health professionals, later called the Medical Bulletin), editor of the monthly FDA Consumer magazine (for general public), Chief of Editorial Services, and Deputy Director of Communications. During this time her articles, under the bylines Judith Willis and Judith Levine Willis, were published and reprinted widely in anthologies and in magazines such as Weight Watchers and Woman's Day.

Today her health articles can be found on many websites. She is listed as editor of three anthologies of women's health articles that appeared in FDA Consumer during her 8-year tenure as editor; the anthologies were published by Diane Publishing in 1992, 1994, and 1997. Before retiring from FDA in 2000, she spearheaded a program of low literacy publications. While with Fairfax and continuing through her years at FDA, she won numerous awards for her articles and publications. Judith joined the Unitarian (now Unitarian Universalist) Church of Arlington (Va.) in the 1970s and there led Goddess study groups, including women's seders, throughout the 1980s. When she moved to the Maryland suburbs of DC in the early 1990s, she affiliated with the Cedar Lane Unitarian Universalist Church and led a "Cakes for the Queen of Heaven" class, as well as a follow-up study groups for several years. In the early 1990s, she also created rituals for an area-wide UU women's group that met at the River Road Unitarian Church. In her workshops for a variety of groups, such as Voices of Women in the Washington-Baltimore area, in the 1980s and early 90s, she introduced Eastern European and Middle Eastern ("belly dance") dance forms into Goddess rituals.

Her first published writing on Goddess Spirituality was a group of rituals called "Women's Celebrations" written under the name Judith Laura in Issue 15 of the journal WomanSpirit in 1978. Her books on Goddess Spirituality include She Lives! The Return of Our Great Mother (1989, 1999, 2010), Goddess Spirituality for the 21st Century: From Kabbalah to Quantum Physics (1997, 2008, 2011), the Second Enlarged Edition (2008 and 2011) of which was named Winner of the USA Best Book Awards 2009 in the comparative religion category. Her most recent book, Goddess Matters: the mystical, practical & controversial, published in 2011, received finalist awards from the International Book Awards 2012 in two different categories. An audiobook, Goddess Guided Meditations, which she narrates, contains meditations from her first two books, plus five new meditations. Her fiction and poetry continue to be widely published, also under the name Judith Laura. Her most recent novel, Beyond All Desiring , received top honors in the 2006 Ulysses Award competition and was named finalist in two other competitions. Contents section of this site allows you to see the different topics covered.